Most of us have been camping at least once in our life and know the feeling of sleeping under the stars and out in nature. For a lot of people this is a rare occasion and maybe even a once in a lifetime treat. But why should it be? Every trip I take I leave camping open as an option for a place to stay or a mini side-trip to explore the wilderness in the area I am traveling. Summer is a great time to explore the outdoors. It is warm so you can pack lightly and kids don't have school so you can bring the whole family. Here are 6 reasons why camping should be a part of your summer vacation.
Disconnect
Disconnecting from the busy social and information-overloaded world that we live in is difficult. It takes a truckload of will power just to resist checking our email or refreshing our instagram feed constantly. Getting away from wifi and data signals forces us to put the screen down and look up to truly see the world we live in. Without the distractions and constant input coming through our devices we have the chance to think about what's really important in our lives and reinforce our values.
Bonfires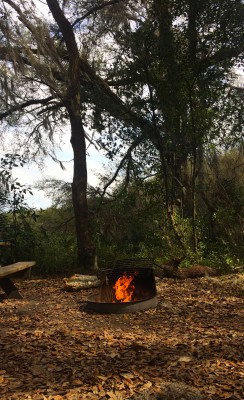 Everybody loves a great fire and when you're camping you don't have to worry about smelling like smoke. It's hard to compare the warmth of a hot fire on a crisp evening in the woods. Staring into the dancing orange and yellow flames really shuts off your mind. It's meditative and really helps you relax.
Resets Our Circadian Rhythm
Without screens and white lights everywhere, tricking our eyes and body, we can subconsciously take in the subtle signs that dictate our natural sleep cycle. We start to get sleepy when it gets dark and it's hard to sleep long through the morning light, chirping birds, and other signs that tell us the day is started. I love the feeling of waking up with the sunrise and feeling in-touch with everything around me. We are much healthier and more productive when we are in-tune with our natural sleep cycle.
Bacon and Eggs
Camping is a great excuse to have bacon and eggs every morning your are in the woods. You can turn it into an amazing breakfast burrito with some potatoes, avocado, cheese and salsa. This will keep you going through most of your outdoor activities.
It's Cheaper Than A Hotel
$0-$30 dollars a night for your whole family beats a hotel, condo, or B&B any day. Oh, and it's not stuffy, and the eggs in the continental breakfast don't come from a carton!
S'Mores
If this was the only thing on this list, I'd still say it is a great list. There is nothing better than roasting marshmallows over an open fire and creating the ultimate camping dessert. If you have some leftover mallows and chocolate in the morning you can make some really really really good hot chocolate. Make sure you use whole milk, lots of chocolate, and a little bit of cream.
Whether it's Florida, Maine, Baja, or Montana camping is a great way to get in back in touch and explore the real world around you. There are campgrounds around the world and a quick google search will point you in the right direction. Remember to make reservations as far in advance as you can and don't forget the bug spray!
If you need camping supplies check out the huge selection at REI, they offer free shipping on orders over $50. Also, if you live the outdoor lifestyle make sure you check out SteepAndCheap.com. They have ridiculous deals everyday on some awesome outdoor apparel and gear.