We are water people! Here is a little about the Captain and Crew!
Captain Bill
I love the sea. I have been a water bug my entire life and love surfing, diving, kiting, paddling, everything to do with the ocean. I have been a lifeguard on the Atlantic Ocean since high school and have been competing in lifeguard competitions since the same time. Here's a quick movie I made of Kiting the East End of Long Island.
In 2013 I found an abandoned 26' sailboat in a boat yard near my home on long island. Turns out the boat is a Victoria Frances 26. A small "pocket cruiser" designed by Chuck Payne to be a simple sturdy boat designed for ocean cruising. I bought the boat for $800. I spent a year ripping off rotten decks and delaminated fiberglass then building the boat back up and outfitting her for ocean passages. I named her "Tula" which is "balance" in Sanskrit. You can check out Tula's restoration here.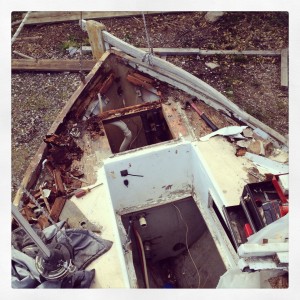 Our first few months together were pretty crazy. You can read about our first trip together (where I cried and pissed my pants) here.
Since then, I sailed out the Fire Island inlet, down the cold lonely eastern coast in November/December/January and down to Jupiter, Florida.
Here is a short video of my cold, lonely trip down the coast. Burrrhh.
I met my beautiful girlfriend (and now first mate) in Jupiter and couldn't be happier.
We sold Tula in 2015 and bought a 1973 Marine Trader Trawler which we named "Neverland". Here is a quick virtual tour of Neverland.
We are living the waterman life, surfing, paddling, kiting, and training every single day while we travel and go on some crazy adventures in between. Check out some of our videos for the most recent crazy adventure!
First Mate Sierra
Sierra is an all-out water woman! She is always in the ocean either surfing, paddling, swimming, kiting, spearfishing or training. She LOVES new adventures and her new life living aboard a boat. Here is Sierra paddling with some swimming pigs in the Bahamas.
Jetty – The Other First Mate
Jetty is an Australian Cattle Dog mix. She loves string beans, boat life, and naps. She is the real boss and we love her. Oh, Jetty kite boards too…. And here is a quick video of Jetty about 6″ from a baby shark…