So, there are two extremes to the spectrum, people see mega yachts and then they see derelict boats. The expenses of the two are also opposite on the spectrum. We like to think we have a nice-looking boat with all our necessities. But at the same time, we are not living large by any means. We are however living a happy adventurous life. People always wonder how we do what we do and how much does it cost. Below are a list of our general expenses and how much they cost. This year we have traveled to the Bahamas and up the East Coast as far as Nantucket.  This is an estimate of what we have spent and will spend for the remainder of the year.
Mooring/Docking:
90% of the time we are on the hook. The only time we dock is if there is extremely bad weather or if we are broken down like we were in Daytona where we paid $9.00 a foot for the week. When traveling, sometimes protected harbors are filled with moorings that you have to pay for. They usually range from $20-70 per night.
Average monthly total: $58
Yearly total $700
Boat Payments:
Neverland is completely paid off. We did not have to take out a loan and we do not have any payments on her.
Average monthly total: $0
Yearly total: $0
Maintenance:
We always try to do all of the maintenance work ourselves which saves us a lot of money. We had to learn a lot and that is where Youtube how to's and books such as "This Old Boat" come in handy!
Bottom Paint: $200
Zincs: $200
Haul Out & Storage: $900
Paint & Oil: $200
Dinghy Engine & Generator Maintenance $200
Random Repairs $300
Engine Maintenance $2000 (This year was our highest yet… new tranny)
Average monthly total: $330
Yearly total: $4,000
Food:
We generally spend about $200 every two weeks on groceries. We also like to go out to eat a few times a month and we spend about $400 a month at restaurants (something we need to cut back on)
Average monthly total: $800
Yearly totally: $9,600
Water:
At most marinas in the states the hose water is potable and they do not mind you filling up your tank. In the Islands, fresh water is harder to come by so they do charge but luckily, we did not need to fill up this year.
Average monthly total: $0
Yearly total: $0
Pump-out:
The price varies from marina to marina but it is generally under $10 including a tip for the dock attendant. We pump out every two weeks. Our tanks usually fill up the same time our water runs out so we make the most of our trip to the marina.
Average monthly total $20
Yearly total: $240
Fuel:
We will travel right around 2000 nautical miles this year. We burn about 1.8 gallons per hour and our average speed is 5.5 knots. The average price of marine diesel fuel is about $2.80. In one hour we spend around $5.04. In the 2000 miles we will spend around $2000.
We also use gas in our tender and for the generator. We use about 40 gallons of gas a month between the tender and the generator which has us spending around $100 a month.
Average monthly total: $270
Yearly total: $3,200
Insurance:
YIKES so we do not have insurance on Neverland. BAD BAD BAD! If you have a boat you should! We will definitely have insurance on our next boat!
Average monthly total: $0
Yearly total: $0
TowBoat U.S. :
With an old timer like Neverland or even with a brand spanking new boat you never know what could happen. We always make sure our TowBoat U.S.  Unlimited Gold towing membership is up to date it only cost $170 for the year. Our short little tow from New Smyrna to Daytona would have cost us over $500 without it!
Average monthly total: $14
Yearly total $170
Registration:
In New York you renew every three years so we do not have to pay this year.
Average monthly total: $0
Yearly total: $0
Total: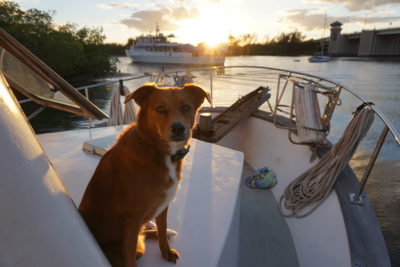 We expect to spend around $17,900 this year. That is about $1,500 a month for both of us including food, living on our own personal island! For two people living an endless vacation I don't think that is too bad!
But do not let this number scare you. There are plenty of ways to lower the yearly cost. For starters maybe not traveling as far! Fuel cost is a big expense and if you prefer to stay in one awesome location your specific cost will be much lower. Our biggest expense is food. We are generally super active and that leads us to be pretty much always hungry. When we do our shopping we also always try to buy the good stuff, such as organic, grass fed, and free range products which can make the grocery bill skyrocket.
Living within your means does not have to mean being stuck in a tiny apartment in a bad neighborhood. It could mean glorious waterfront property with dolphin to greet you every morning! Anything is possible!
If you want to know how we make money to be able to afford this check out our article on how we make money while living on a boat!